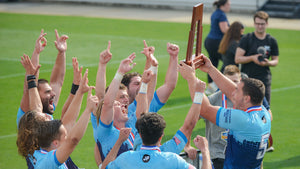 Harvard enjoyed a superb run to make the final but were undone by a University of San Diego team that eschewed the more free-wheeling, avoid-contact approaches to 7s. With several of their most impactful players being forwards, Los Toreros decided to play with that strength. They had players to burn you on the outside, but if you guarded against that, they'd go for the body blows, and win. San Diego had been able to beat Nebraska in the semis, a Nebraska team that had ridden defense and strong teamwork to the semis. They then thundered past Harvard 28-14, led by Michael Ramos, to...
---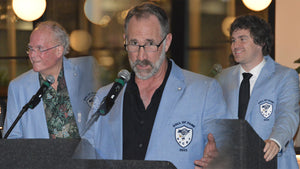 Greg Hareld -  Loc Vetter - TJ Reed   Greg Hareld Greg Hareld was born in Warwick, Road Island on September 14th, 1960 and grew up in Tolland Connecticut where he played football all 4 years at Tolland HS. He is one of six children including 3 boys and 3 girls. Greg arrived at USD as a freshman in 1980 living at DeSales Hall 4th floor west with his roommate Bruce Tomlinson. He then moved in with Tim Kleier and Johnny Purcell (Founders of USD Rugby) his 2nd semester and from this point on Rugby became a passion. After that fateful autumn afternoon...
---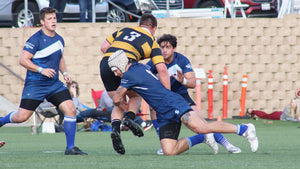 Featured: - Mark Boschetti c/o 2022 : Mechanical Engineering  - Michael Ramos c/o 2022  - Johnny Hale c/o 2022 : Philosophy  - Adam Walter c/o 2021 : Business Finance  - Thomas Olson c/o 2023 : Business Administration - Gabe DePaolo c/o 2021 : Mechanical Engineering Drone footage: University of San Diego, Manchester Field, USD Rugby Practice  
---
Rob Affleck -  Johnny Purcell - Tim Kleier     Rob Affleck Known by many players as "Flicker", played at USD from the fall of 1989 through 1993 and was voted freshmen player of the year.  He was team captain his junior and senior seasons and was voted MVP Backs both of those years.  He was instrumental leading USD rugby to its first Southern California championship in 1993.  He was selected to the Southern California Griffins and the Pacific Coast Grizzlies U-19 as a freshman and toured Vancouver, BC.  He was again selected to the So Cal Griffins and Pacific Coast Grizzlies...